DOCTORS
Doctors are not bad people, they are trying their best. They are just sometimes unaware of the chronic pain symptoms, so they cannot help you, no matter how much they want to.
It is so important that you are constantly communicating with your doctor. I have to admit that I was terrible at doing that. We'd wait for weeks for our appointment, then hours in the waiting room, and when I'd finally get a chance to talk to the doctor, I'd clam up. I don't know why, but I just did. I would tell them I wasn't feeling well, but not to the extent of my intense pain. Then, when my dad and I would get in the car to drive home I would start crying and complaining about how much it hurt. He'd get so frustrated and ask me, "Why didn't you show the doctor this? Why do you wait until now to start explaining your pain?" I honestly didn't know.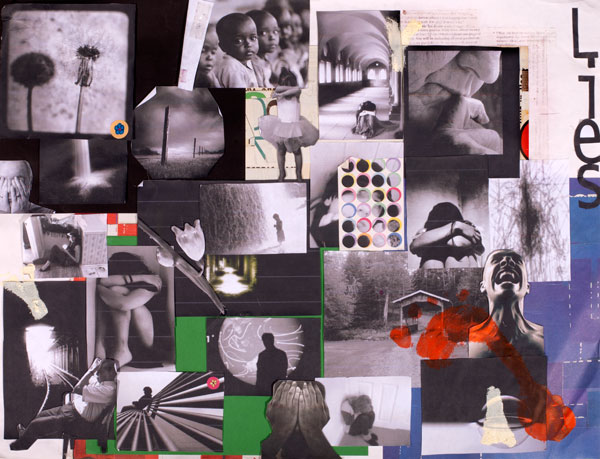 This collage gives insight into how I was feeling throughout this whole experience. I always felt like I was being lied to and that I was lying, even though I wasn't; that's just how the doctors made me feel. It shows the sense of betrayal I was feeling at the time when no one would believe me. The various images illustrate hopelessness, and feeling alone and ashamed.
Like I have said a million times on this website, no one can see pain -- not even the most skilled doctors or the most powerful machines. Doctors are trained to look for injuries or diseases so you need to let them know how you feel, otherwise they have no other way to know what's going on in your body. Even if they are the best intentioned and most academic doctors, sometimes they are not the right doctor for you.
I got a lot of outside help from doctors that I never even met, which is odd. Friends of my family made calls and then the doctors made calls, and that ended up getting me to the doctor who ended up curing my pain. They gave us advice and helped us along our path of finding a diagnosis. They let us know who the best minds in the city were, and they were the determining factor in my healing process.

This is not an exaggeration -- these are all the bottles of medicine that my body consumed in that year. I took all of them.
If you're wondering, the answer is: Gabapentin, Hydrocodone/Vicodin, Lexapro, Cymbalta, Cefdinir/Omnicef, Lyrica, Cyclobenzaprine/Flexeril, Clonazepam, Amitriptyline/Elavil, Sertraline/Zoloft, Seroquel, Sulindac/Clinoril, Lorazepam, Clonidine, Zofran, Buta-Aceta-Caff, Etodolac/Lodine, Oxaprozin/Datpro, & Nabumetone/Relafen.