HOME PAGE
The reason I made this website is to make kids going through chronic pain feel less alone. I am a teenage girl who lost everything to chronic pain and had to work my butt off to get it all back.
My name is Georgia and welcome to my website. This site is all about kids and teens living with chronic pain. It is more common than you would think, but not always properly diagnosed. My hope for this website is to share my experiences and to inspire kids to get help and turn their lives around. This website provides personal stories, other helpful resources, explanations of what pain is, therapies and treatments, and tips that will help you get through this.
I will have illustrations like the one above throughout this website. Every piece of art on this website I personally made, by myself, during this awful period of pain.
Art became my main tool in healing. Some of it is from art therapy, which are assignments from a therapist trying to understand what I am going through and trying to relate to me. Others, I did on my own when I was in distress.
It will hopefully take you on a journey in itself as it illustrates my thoughts and feelings.
---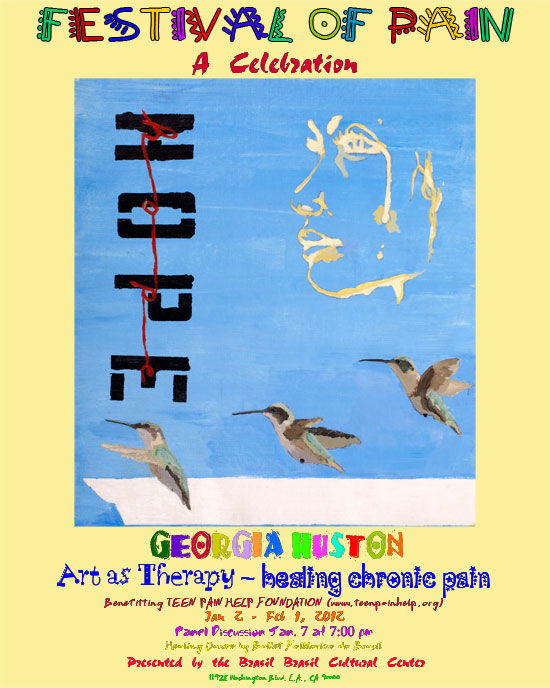 Also, you will find much of the art shown here in a traveling art show, most recently displayed at The Gallery at Ivey's Emporium in Alpine, Texas.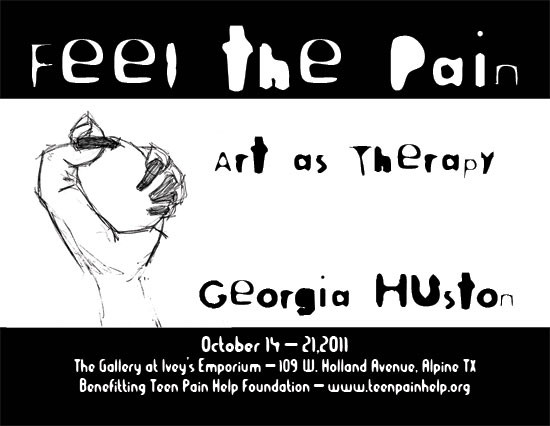 The fully annotated art show is available for display at other suitable venues.